An interview with Matt Stanley: Founder, President and CEO, Sundance Memory Care. Matt recently won the award for Entrepreneurship, Social Innovation & Startup in 19th annual Austin Under 40 Awards!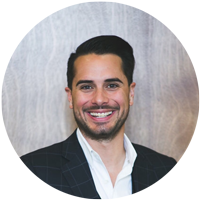 ---
How did Sundance get started and what did you envision?
Had you asked me about memory care or senior housing, I don't think I would have been able to describe what sits in front of us today. Some days have been an absolute struggle to put one foot in front of the other and some days have been so poetic, Shakespeare himself could not find the words to the fit the moment. It was a very humble beginning, but watching my own family struggle through various forms of dementia without support pushed me over the edge. When did we forget how to love on people? How did we miss just being there for them? This is still a huge driving force for me on a daily basis.
You've mentioned how the greatest generation has become the forgotten generation. Can you explain?
How, when and where did we lose respect for our elders? When did it become okay to leave people in a room and say "they have no purpose." We have purpose at any age—we're all in life together. We talk about faith, family, fellowship and forward-thinking on the regular. My dad always says, "We see the world not as it is but as who we are." We have to step out of our day and realize that there are generations of life in front of us; stories to be heard, knowledge to gain and anthems to cherish. We use phrases like "engaging care" and "affirming purpose." Great buzz words, but it IS our true belief to love on our families because they are a wonderful creation… plain and simple.
What advice would you give families walking through this disease?
I heard my mom say, "It is the bitter that makes the sweet so precious." Think about that for a second. Our collective memory contains infinite years of wisdom, pain, struggle and victory. We look for answers to a disease that knows no bounds, but there is always hope. At Sundance it's okay to ask for help, to cry, laugh and just be, because that is living! We are not always going to struggle well, and some days, weeks, and years are brutal, but you don't have to do it alone. You are not forgotten.
How does chance play a role in your day to day with Sundance?
Chance makes me think of all the opportunities we're given and it makes me think of our residents. The "Greatest Generation" has become the forgotten generation and we have a chance to help restore them and hear their stories. In the same way that the AIDS epidemic plagued the 80s, and breast cancer in the 90s, I believe our generation's disease is Alzheimer's. We have a chance to educate ourselves on the process of this disease—the 6th leading cause of death in the US. Volunteering is absolutely an opportunity to be part of something big. Take the chance!
To Volunteer
Contact Alzheimer's Texas txalz.org, 512.241.0420