Baby Bones is bringing their heavy punk rock energy to listeners everywhere.
---
The trio out of Louisville, KY, are set to release their debut record, The Curse of the Crystal Teeth, via Gubbey Records on April 14th 2018.

Baby Bones is the compilation of three forces: Dave Rucinski (guitar/vocals), Thomas Burgos (guitar/vocals/bass) and Badnewz Brandum (drums). Before coming together to form the band, each member was already established in the Louisville music scene. They recorded their first song together as Baby Bones in 2016, without knowing what the future held for them.
Two years later and they have a full album, driven by the powerful single "Pay Us in Dimes," which premiered last month.
"At its core, "Pay Us in Dimes" is simple and melodic, but still booms with layers of heavy rock."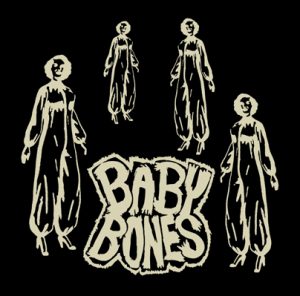 The new single reflects the essence of the band. At its core it is simple and melodic, but still booms with layers of rock. A heavy guitar riff carries the song through, as elements of surf rock, punk and metal all fuse together seamlessly. It feels like a song you can listen to on a continuous loop, consistently bobbing your head and never getting the urge to press next. Unless of course, the next song is another from Baby Bones.
The accompanying video is a mash of old film footage, all in black and white. The seemingly random elements – spaceships in war time, women's melting faces, distortion and I think I even spotted alien starfish, allow viewers to fall into a trance state. As you listen and watch, you stop trying to make sense of everything. Instead, just let the music guide you.
You can keep up with Baby Bones to catch The Curse of the Crystal Teeth when it debuts next month. The album will be released on CD, cassette, digital download and streaming on relevant services.
---
Written by Natalie Earhart