Issue 13 has arrived and in the spirit of the theme, Identity, we're taking a closer look at the contributors behind each article.
A couple of weeks ago we visited Stephanie Jimenez Schiller, better known by her fashion alter ego Vogue Vignette, as she showed us around the fashion department at ACC Highland.
---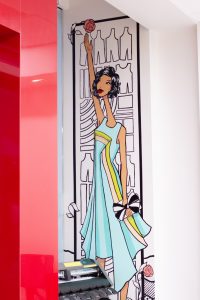 I had never been to ACC Highland before this visit. Though my short stature and lack of direction ensures I'll forever be viewed as a freshman, I had yet to explore the campus.
Upon entering the arts building, I immediately regretted not enrolling for the Spring Semester. Who knew a mall could transition so well into a college campus? We found all the traditional mall clichés – countless escalators, a fountain full of pennies and the contagious energy of possibility. Only unlike the typical shopping experience, the eagerness was focused on creation, not consumption.
After window shopping a few classes, (literally), we ended up in the fashion department with our personal guide and expert, Stephanie.
Finding Your Personal Style
With over seven years under her belt (pun intended) in the fashion world, Stephanie was eager to share her skills. Along with launching her own creative studio, Vogue Vignette, in 2017, she developed an Intro to Fashion Illustration course for ACC which she teaches each Spring.
Novice designers and those simply curious about fashion will find the course especially helpful. There's no experience required.
"Even if you only draw stick figures," as Stephanie shared, the class is still for you.
The course focuses on techniques that will help you both discover and translate your personal style through illustration.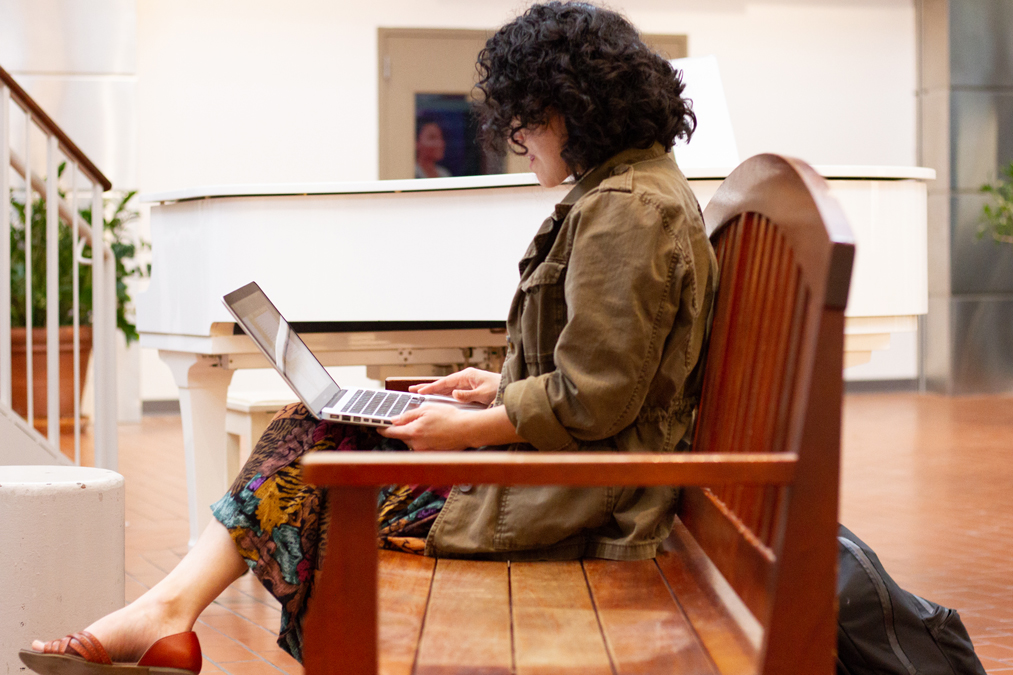 Stephanie shared the uniqueness of the fashion design program here, comparing it to a all-in-one experience to learn "everything you need to know about stepping into the fashion industry."
"Here people can get their start, test their designs and use software for product life management."
It's all a part of the Fashion Incubator program offered by ACC and partly funded by the City of Austin. Aspiring and established designers have access to career training, a residency program, leasable space and technology to set them up for success.
On that topic, it's hard to miss the giant plotter in the middle of the room. The machine and corresponding software, both provided by Gerber Technology, are key assets driving students to the program. Students save much-needed time by plotting their own patterns.
Destined for Creativity
As we glance away from the printer, our eyes are quickly drawn to a familiar sight; murals hand-painted by Stephanie and commissioned by ACC appear throughout the entire room.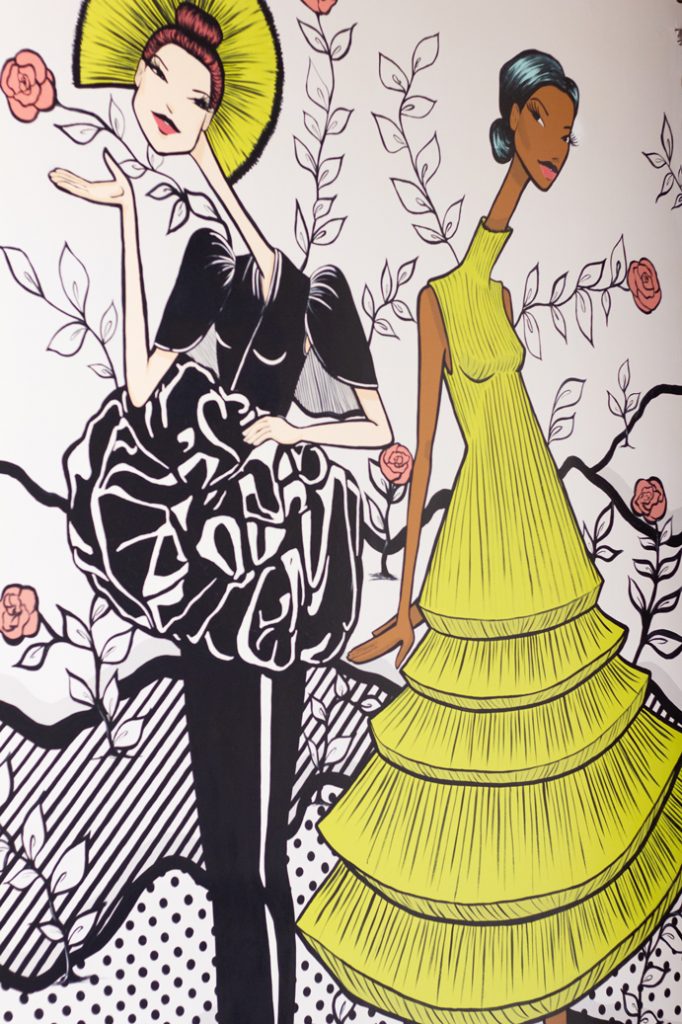 Neon greens and tree-like figures peer over us as we dissect their meaning.
Stephanie's style of fashion illustration emphasizes female empowerment and individuality. In the largest mural in the room, she chose to pay homage to various icons in the fashion design world that represent diversity within the industry. In addition to being sources of inspiration, Stephanie hopes each student will be able to identify with one of artists, and feel represented.
Unlike some of the street artists I've interviewed in the past, Stephanie's mural process strays away from improvisation and instead is more meticulous. She goes through renditions of her work first in graphite, then ink, and eventually creates a digital version that she can tidy up and reposition.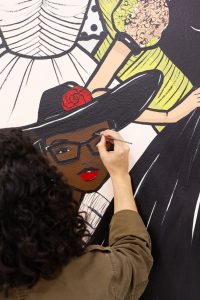 After laying out a grid on the computer, Stephanie translates it to the wall that is her canvas. She then pencils everything in and begins painting from background to foreground.
She refers to painting murals as a "full body experience." It's a new way to create art away from her drawing pad and laptop.
Stephanie's passion for painting spans generations. She remembers her father painting small murals on walls of the garage when she was growing up, a creative outlet he also let her partake in. Stephanie passed down this privilege to her young niece, who helped her complete some of the murals in the ACC building.
"It feels like what I'm supposed to do."
Beyond the Walls of ACC
As if teaching and painting aren't enough, Stephanie has another venture already under way.
As we spoke, Stephanie continued to prepare digital illustrations for her workshop at the start of SXSW.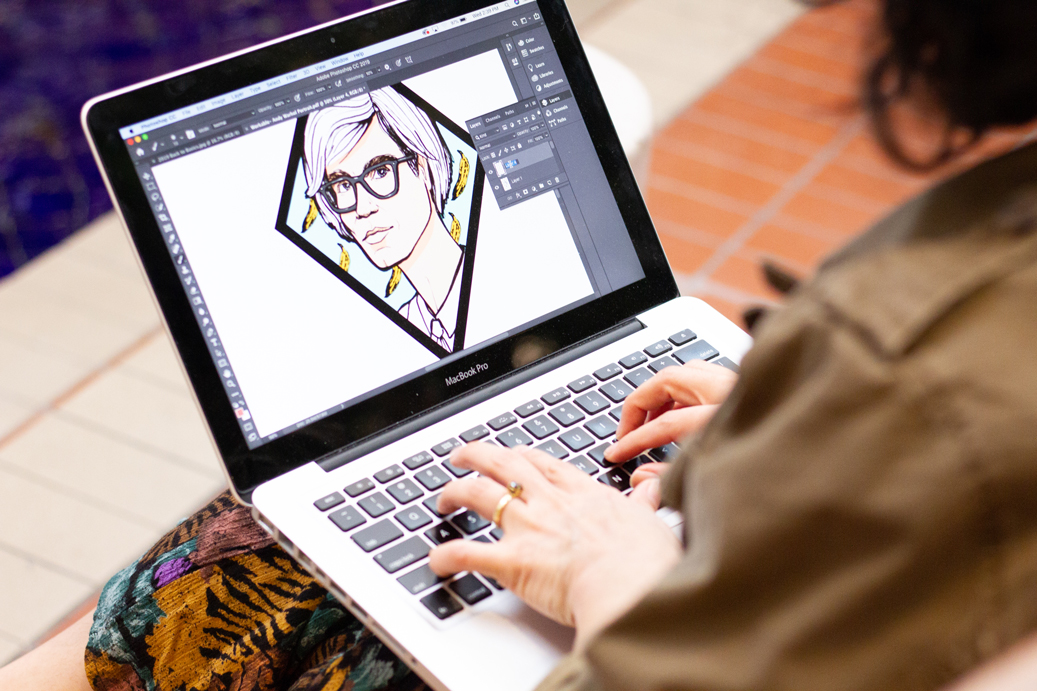 The official showcase is a continuation of a workshop she began at last year's festival. In part two of the series, she's focusing on how fashion, culture and society intertwine in the late 60s and early 70s. Even though the workshop is based on a past era, much of the conversation is still relevant today.
Stephanie has prepared a slide show of custom illustrations, photographs and an in-class demonstration. Guests will get a hands-on experience by creating an illustration of their own.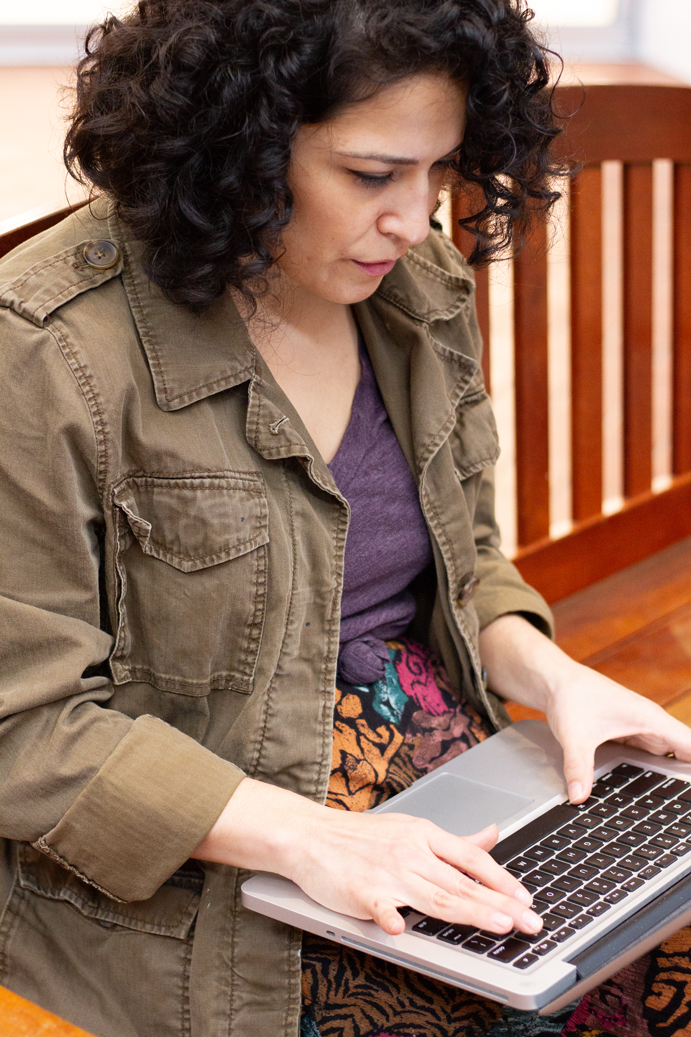 Not a SXSW badge holder?
No worries, Stephanie bestows her fashion expertise upon readers through the article she designed for us in Issue 13. Southby Stylin' lays out specific personas you can take on during the festival with outfits primarily comprised from local designers.
If you're eager to see more designs, you can look forward to a book Stephanie herself promised me she'd create. Well, she did not so much promise me, as mention it at the end of our conversation. But, I did promise her that I would keep her on task. So I suppose publishing this statement is my first step towards encouraging her.
We can't wait to see your book Stephanie!
---
Written by: Natalie Earhart