Listening to Michael P Cullen's new single "Believer" will make anyone feel like they are front row center for his concert.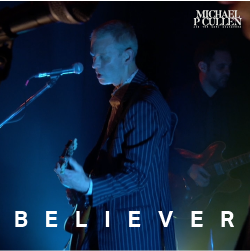 The new EP Live at Lazybones, released a couple of weeks ago, was recorded live in Sydney at the Lazybones Lounge. "Believer" is the second single from the album and has an accompanying video that captures the live energy of Cullen's performance. All of the songs off of the album were recorded with the band The Soul Searchers, who provide strong background accompaniment for Cullen's powerful message.
Michael P Cullen's music has been described as a blend of Noir, New Wave and Northern Soul. His strong baritone vocals offer a distinct sound that brings layers of meaning to each song. The lyrics are poetic while the vocals are deep and dramatic. Cullen has been compared to Leonard Cohen  and Tom Waits. He even mentions Cohen in his first single "Black Dog."
The music video for "Believer" is set in a dark lounge where only the band is visible and the audiences' voices are cheering in the background. All of the instruments, synths, guitar and drums blend to support Cullen's booming vocals. The lyrics sound like broken thoughts, reminiscent of spoken word poetry performed over a song. For the most part, the video is a straight forward live performance. In that way, simple works best. There are a few effects, like overlays and slow motion, but they seem not to add much to the performance. The song is strong enough on it's own.
To keep up to date with Michael P Cullen and The Soul Searchers, check out their website.