Welcome!
Almost Real Things is a space where all things that can exist, do exist. No reason necessary.
We are an Austin, Texas based magazine, event series and community promoting passion projects and creatives in all mediums. The name "Almost Real Things" (acronym: "ART") defines those special ideas that hold promise—the ideas that consume your life as you strive to realize them.
Our print and online formats provide a free space for artists, musicians, writers, designers, performers, startups, and so on, to showcase their project or craft. We are creating a warm, welcoming community where emerging creatives are given valuable opportunities to push their projects forward, eventually leading to financially stable careers that they love.
Enough philosophizing, let's see some Almost Real Things.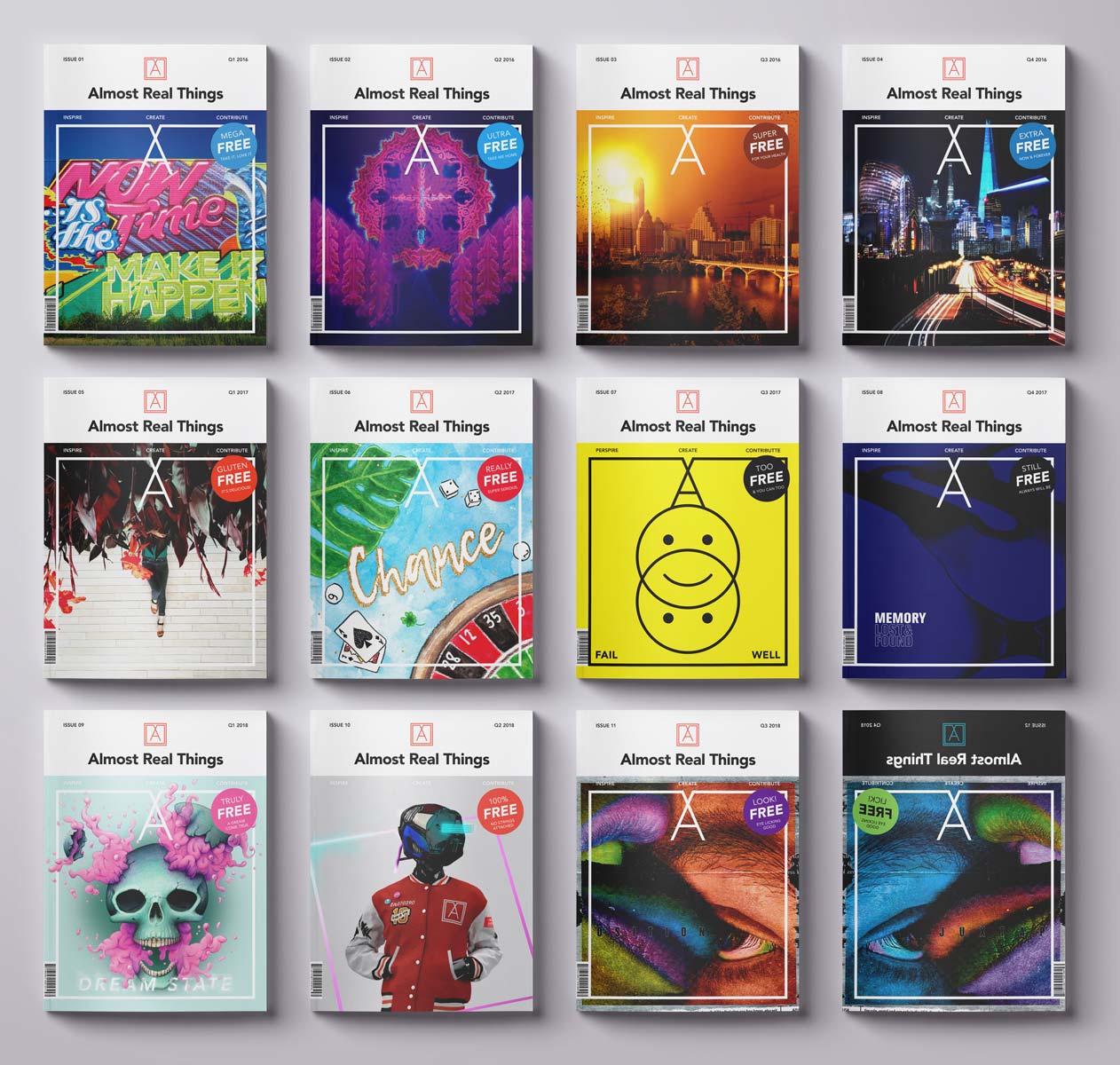 Zachary Zulch
Founder / Creative Director / Events
Nelson Mak
Booking Manager / Outreach
Natalie Earhart
Founder / Editor in Chief / Writer
Sam Rahman
Stage Manager / DJ
Akki Brathwaite
Event Coordinator / Admin / Doodler
575+ featured contributing members so far
Issue 01: Demi Anter, James Butler, Katie Edwards, Graham Franciose, Spencer Huddleston, Wade Keusder, Tambout Naguer, Reluctant Hobo, Cathy Savage, Jason "Skippy" Shindler, Vandal, Paul Washington, Andrew Whited, Elisa Wikey, Ty Wilkins, Karen Woodward, Pardis Zand
Issue 02: Chad Allen, Demi Anter, Lauren Briere, Anissa Bryant, James Butler, Carissa Cornelius, Olivia Costanzo, Jeremy Earhart, Louis Eastman, Jon-Michael Frank, Matt Haghighi, Jenn Hassin, Patrick Hobbie, Ruthie Junto, Wade Keusder, Molly Maroney, Clark Meyer, Kellie Moore, Emily Morris, Tambout Naguer, Robert Page, Christy Pak, The Persona, Katie Ryan, Heath Speakman, Mylo Villanueva, Kate Wade
Issue 03: Tom Besson, Akki Brathwaite, Verity Conrad, Alex Doty, Austin Evers, Klaus Eyting, Hilary Fitzgerald, Becca Gordon, Matt Haghighi, Carol Hayman, Liz Hermanson, Inflatable Robot, Kelly Johnston, Gage Kelsey, Logan Lockett, Mahsa Madani, Lena Martin, Avery Orendorf, Julie Peleaz, Zuzu Perkal, Ami Plasse, Amanda Staples, Kristen Van Patten
Issue 04: Jason Ake, Chad Allen, BLVD, Akki Brathwaite, Joel Ganucheau, Marissa Gravett, Nima Jalali, Ty James, Wade Keusder, Sarah Frankie Linder, Nikki Llorca, Clark Meyer, Jason Napolitano, Jessica Pearson, Laura Penney, Zuzu Perkal, Random Direction, Steven Walker
Issue 05: Alessia Meola, Alex Doty, Andrew Parsons, Borja Cabada, Brian Stokes, Carmen Garza, Chad Allen, Dave Thomas, David Lamplugh, Emily Morris, Emree Weaver, Flip Solomon, Gage Kelsey, Gert Johan Manschot, Ghost Van Gogh, Ian Sells, IGAustinTexas, Jam Sanitchat, Javier Gonzalez, Jessica Pisani, Josette Jellison, Josh Watson, Lauren Cohen, Maria Teresa, Marque Blackman, Natalie Gomez, Travis Ratcliff, Victoria O'Dell, Wade Keusder, Yung Wall Street, Zoe Smurr
Issue 06 "Chance": Abby Fine, Akki Brathwaite, Andres Alvarez, Bianca Torres, BLUE731, Chad Allen, Chris Long, Far & Few, fuvk, Gage Kelsey, Hallie Rae Ward, Janna Sammon, Jason Napolitano, Joel Greatbatch, Katie Edwards, Kelly Gray, Kimberly Flores, Laura Penney, Lauren Cohen, LEFT&14th, Lisa Belcher, Loc Huynh, Madhu Basu, Matt Stanley, Michelle Wanhala, Miles Starkey, Polly Morwood, Stellar Roz
Issue 07 "Fail Well": Akki Brathwaite, Amar A. Gupta, Angelica Raquel, Becca Gordon, Cable Gvyz, Chloe Lowrey, Cloudchord, Demi Anter, Eric Massey, Eugene Stetz, Growl, J Muzacz, Jared Moore, Jason Napolitano, Joel Greatbatch, Jonathan Garza, Keith Manlove, LEWYV, Lindsay Smith, Lorelei Linklater, Martin J. Lewis, Mike Madden, Nathan and Benny, Nikki Llorca, Random Direction, Steven Sluyter, Shad Haigwood, Sid Buckler, Stephanie Vu, T.J. Wendel, Tim Ochsenreither
Issue 08 "Memory: Lost & Found": Kristikka Acacian, JP Boneyard, Adam Brunell, Antonius Bui, Dr. Cameron Camp, Steph Chen, Eya Floyd, Jon Garza, Jordan Gentry, Ari Gootnick, Elsie Greer, Rachael Harmon, Dave Hilliard, Anne Johnson, Jeanette Nevarez, Robert Olivier, Nicole Parker, Matt Peters, Chris Quaglino (Mr. Q), RNA, Brady Sanamo, Oliver Shahery, Steven Sluyter, Matt Stanley, Trent Sultemeier, Verisimilitude, Christian Wells, T.J. Wendel, Andrew Whited, Jessica Williams
Issue 09 "Dream State": Julia Zipporah, Zander, Gizem Yilmicak, Juan Villegas, Vacuum Repair, Carl Smith, Steven Sluyter, Claire Sheehan, Cierra Rowe, Fabian Rey, Tim Ochsenreither, Christina Nguyen, MacKenzie Miller, Nicholas McCann, Tiffany Lemieux, Erika Leal, Isra Khan, Wade Keusder, Nina Ho, Christian Hernandez, Sarah Henderson, Moby Hayat, Dane Gudde, Ben Gibson, The Ghost, Paulina Fricke, Vince Fraser, Flite, Liza Fishbone, Claudia Durand, Alex Doty, Liz Deering, Shannon Boxell, Cody Blazek, Nanu Berks, Itamar Benitez, Lisa Belcher
Issue 10 "Material": Armadillo Christmas Bazaar, Ascent Aerial Productions, Balloons By Pineapple, Bern Ban, Big Medium, Blue Genie Art Bazaar, Akki Brathwaite, Edison Carter, Cherrywood Art Fair, Tom Cox, Sophia Depascuale, Justin Diosdado, Rachael Dobos, Patrick Dougherty, Jason Eatherly, Stephanie Estrin, Sam Frankel, Ryan Gallimore, Blake Hampton, James Heller, Adrienne Hodge, Kevin Kelleher, LIP, Haven Meadows, Tambout Naguer, Professional Plotter, Random Direction, Lys Santamaria, Alexis Sleeper, SprATX, Brianna Vance, Carrin Welch, Sharon Yam Sananes, Julia Zipporah Allen
Issue 11 & 12 "Juxtaposition": Ellie Alonzo, Armadillo Christmas Bazaar, Art Outside, Austin Design Week, Taylor Bailey, Nicholas Battis, Dwight Beningus, Big Medium, Tara Bogart, Maysa Bogheiri, Mike Boland, Akki Brathwaite, Rick Byrnes, Elizabeth Carrington, Tom Cox, Rachel Crockett, Day Dreamer, Marcie Dodd, Eye Dr., Selena Fara, Soledad Fernandez, Forklift Danceworks, Curtis Griffin, Blake Hampton, Nina Ho, Jordan Hourie, Imagine Art, Kristin Ingram, Isra Khan, Madden + Moon, Nelson Mak, MediaTech Ventures, Jonica Moore, Nailivic Studios, Jeanette Nevarez, Jennifer Marie Pate, Adrian Patenaude, Pecha Kucha, Pixel Pushers Union 512, Rebeccah Polk, Sam Rahman, Chad Rea, RealMusic Events, Caleb Richardson, Robo Roku, Nicci Sevier-Vuyk, Alexis Sleeper, Kristi Standley, Swayló, Tierra Firme, Kevin Tong, Matthew Trujillo, Lauren Zambito
Issue 13 "Identity": Noor Alnoman, Chelsea Amato, Aline Bigizi, Akki Brathwaite, Izzy Cheng, Noble Crawford, Lizzie DiSilvestro, Shannon Elder, Derrick Haggerty, Sharifa Hossaini, Stephanie Jimenez, Maria Teresa Johnson, Kawther, Roxolana Krywonos, Nadya Lambreva, Hannah Elizabeth Lasure, Brandy Mattas, Jeanette Nevarez, Ella Nilsson, Darien Nuckols, Tim Ochsenreither, Adrian Patenaude, Kate Poor, John R. Powell, Jaydarian Reyes, Drew Riley, Owen Schwartzbard, Sam Soper, Ashland Viscosi, Will Crochet, Kat Williams, Kay Wine
Issue 14 "VIVID": Alicia Wells, Aria Brownell, Beast Syndicate, Big Medium, Brittany Johnson, Cameron McNeil, Clint Roth, Efren Rebugio, Emmy Laursen, Gabriel Portillo, Hopscotch, Ion Art, Jamila Ralph, Jon Garza, Josh Green, Kalee Espitia, Larry Goode, Lauren Goulet, Leah Dorrian, Meena Matai, Ransom Ashley, Raw Paw, Reggie Devore, Ruffhouse Arts, Stephen Rendon, Tim Ochsenreither, Travon Conyers, Tsz Kam, Whitney Batres, Xachery Goldsman
Issue 15 "Money Makin'": Aram Amini, Tina Bartolucci, Steve Berry, Akki Brathwaite, Bronze Whale, Russell Brown, Dub Equis, Ashley Foxx, FreeVerbs, Ashlea Godwin Wood, Roman Gonzalez, Curtis Griffin, Theresa Haddow, Matt Haghighi, Moby Hayat, Anvita Jain, Catie Lewis, MannMukti, Dhvani Mehta, Anjana Menon, Jordan Muzquiz, Fabian Rey, Cambrea Roy, Neha Sakhuja, Nick Sebesta, Ian Sells, Daman Tiwana, Red Moth Art, Rosemary Valentino, Ashland Viscosi, Lisa Zinna
Issue 17 "Process-ing": Armadillo Christmas Bazaar, Blue Genie Art Bazaar, Adam Brunell, Russell Brxwn, Monica Gallagher, April Garcia, Jordan Gentry Nelson, Laura Gossen, Ryan Gossen, Tyler Herlin, Jessica Hissam, House of L, Mariah Howard, Kerry Hugins, Anne Johnson, Leslie Kell, Jae Lin, Jess Lin, Lizarazo, Big Medium, Evan Narcisse, Ami Plasse, Jenny Ramirez, Red Moth Art, Scott Rolfe, Sapira Design, Sam Soper, SprATX, Staple!, Bill Tavis, Sean Thornton, Uncommon People, Emma Van Den Akker, Dawn Winter, Dana Younger, Julia Zipporah Allen
Issue 18 "Surreal // So Real": Rosemary Allen, Natalie Allyger, Kyle Armstrong, Art Island, Arielle Austin, Bendy Lyndi, Ryan Brocha, Adam Brunell, Bradley Brunell, Steph Chen, Mihai Cipleu, Marcella Colaveccio, Como Las Movies, Victoria Corbett, Sasha Devore, Shannon Elder, Liza Fishbone, Henry Invisible, Kwik Ice, Dave McClinton, Mesmerize, Ashley Metro, Mural Project, DeLoné Osby, Rachelle Penny, Powdered Wig Machine, JR Rapier, Red Moth Art, Robotters, Jared Rosenacker, Richard Rutner, Sleep Is Famous, Alexis Sleeper, Chris Tobar Rodriguez, Un.Inc, Marcelo Villaseñor, Juan Villegas, Vogue Vignette, Amanda Zappler, Julia Zipporah
Artists to Watch: Natalie Allgyer, Thedocia Autumn Mae Crocker, Samara Barks, Alanna Bass, Jesse Berger, Shannon Boxell, Robert Calloway, Daniel De Leon, Claudia Durand, Meghan Elizabeth, Vince Fraser, Paulina Fricke, Eris Gentle, Ryan Gianelloni, Indira Govindan, Amy Guidry, Makenna Hatter, Abi Houseman Mallick, Sherrod Jackson, Josette Jellison, Nada Krstajic, Erika Leal, Katherine Leung, Marty Lewis, Mario Loprete, Mara Magyarosi-Laytner, Sarah Marie, Juca Maximo, Nick McCann, Kool Me, Mike Melinoe, Ashley Metro, Jessica Moritz, Gerard Niemierowko, Katie Paglialunga, Kristine Paiz, Tim Richter, Jared Rosenacker, Cierra Rowe, Jon Schoepflin, Derek Setzer, Amanda Shirlow, Lindsay Smith, Rick Steinberg, Larry Stubbs, Alexis Swift, Wenlin Tan, Emma Van Den Akker, Juan Villegas, Linda Wandt, Casie Warnke, Wolf Garden
Artists to Hear: Bay Station, BlackLight, Bronze Whale, Dub Equis, Fertility House, Gutta Rich, King Air, Sammy G, Sick/Sea, Spencer Robinson and The Wolf Spiders, Stone House, Tyler Brunner
Booked Event Musicians: Apollo Raid, Beatchaser, Bern Ban, Big Jaw, BlackLight, Bliss Motel, Blvk Sheep, Bronze Whale, Cable Gvyz, Chido Machine, Chris Big Money, Cloudchord, cMac, cozymason, DJ Ella Ella, Djhilo, Dub Equis, Emune, Enter the Dao, Fanclub, Far & Few, Feedback Alliance, Fertility House, Flite, Flizoshi, Geranium Drive, Get Schwifty, Grympho, GUI.dance, Gutta Rich, Kelsey in Paradise, Koshimoda, LIP, Lizarazo, Love Tone, LUCA LUSH, Lucky Badger, Luke and The Lonely, Mama Duke, Many Voices, Marc Rebillet, Marfa Crush, MARZO, Meow Now Brass Band, Mike Melinoe, NAMŪH, Neema V, Peter Kuli, Prismo, Psychic Shark, Quasar, Richfellow, Riddimstix, Sam&i, Samwise, Sammy G, Savannah Dahl Lake, Scott Slyter & The Funkadelics, Sick/Sea, Space Angel Hug, Springful, Still Haze, Sweater Beats, Tambo, Taylor Thomas, The Deli, The Persona, Torre Blake, Trupica, Vacuum Repair, Verisimilitude, Woke Bloke, Yung Wall Street, Zayle