Christina Rubino's new video for "Godspeed and Guns" is Romy and Michelle meets Thelma and Louise. Running nearly seven minutes, it's a saga of two girls just having fun and committing multiple murders. Sounds like your average Thursday, right?
---
Despite the darker undertones, Christina Rubino has added light to the heavier themes in her new single. In the video, her character is playful and the violence is exaggerated in a way where it almost becomes comical. I do not want to give it all away, but what Christina's character chooses to do with her victim's body parts is quite ridiculous.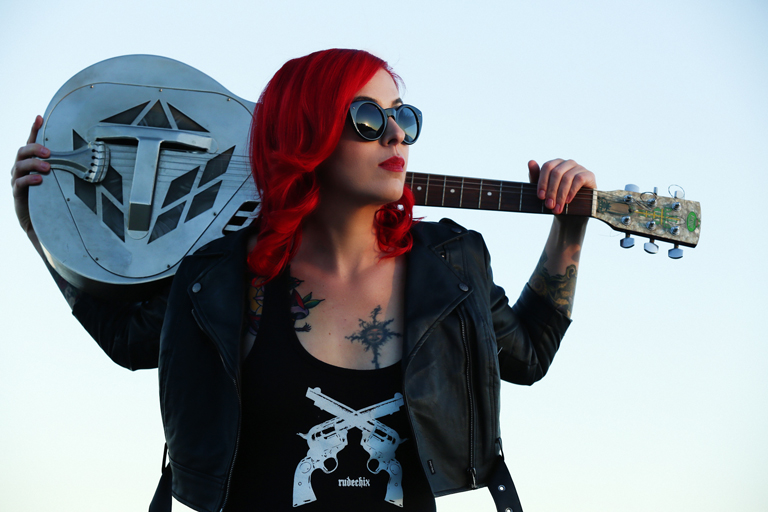 As a long time musician, Christina has a knack for telling stories through songwriting. Her new album, which is set to be released early next year, is full of her eclectic sounds ranging from a new take on indie rock to softer ballads. "Godspeed and Guns" is just one example of what to expect from the full album but you should anticipate a wide-range of musical styles. Christina's influences include Johnny Cash, Linda Perry and she was even a lead guitarist in an all female Depeche Mode cover band. Since making the transition into her solo venture, Christina has taken the time to experiment with her songs, giving her the opportunity to fuse any number of genres.
For Christina, writing and recording her own songs allow her to explore her "shadow self." It is a self that may seem contradictory to how people perceive you, though it always lingers beneath the surface. Christina explains that "you cannot drive out darkness with darkness – and when you spend your life refusing to see, you lose the ability to see even if you wanted to." For her, this is what happened to the character portrayed in "Godspeed and Guns." So open your eyes and your ears to the sounds of Christina Rubino! And look out for her new album in January 2017.