Be "In the Know!" about grant opportunities in the City of Austin!
We want all artists to know about how to connect to opportunities that empower you to learn, grow and succeed as a professional. That's why we've partnered with the City of Austin to provide assistance and spread the word about the Nexus grant.
The Nexus grant is available to new and emerging local small organizations, individual artists, and small arts businesses to produce creative public projects. This is an on-going grant of $5,000, awarded to 50 applicants every 6 months.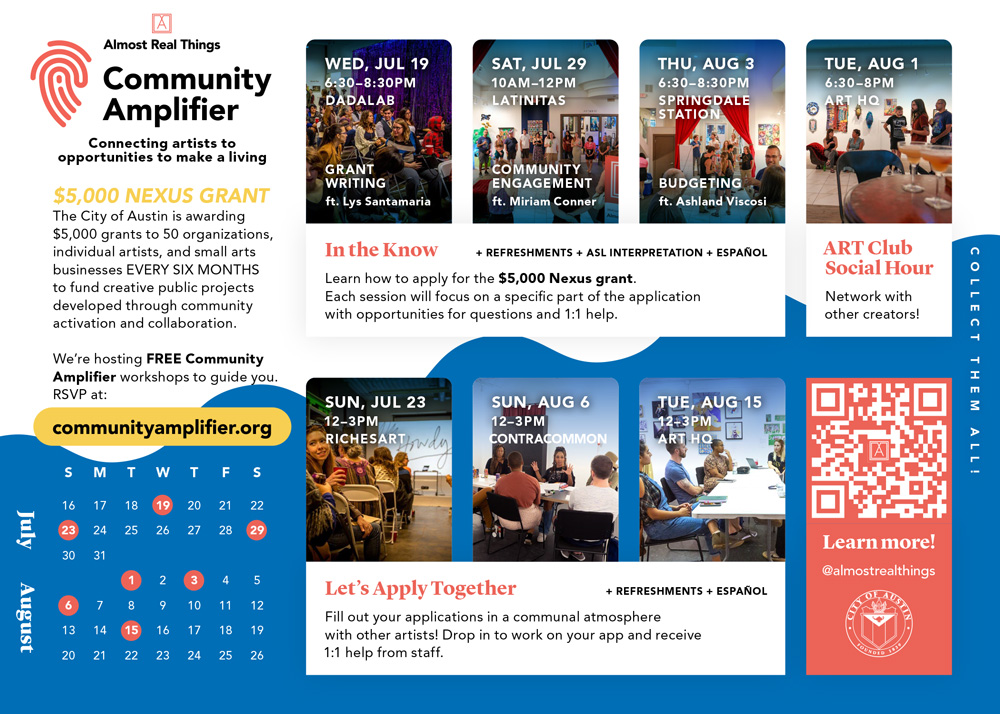 Community Amplifier Workshops
As a Community Amplifier for this program, we've launched a series of workshops called "In the Know" to help artists with specific sections of the Nexus grant.
Last week, we hosted our first In the Know session all about grant writing. We invited a special guest speaker, Lys Santamaria, to give tips and advice on how to approach application questions with confidence.
Lys is a local mosaic and bead artist and has received funding through the City of Austin and Art in Public Places. She is currently on the panel for the Elevate grant, so she has experience both as an applicant and juror.
Watch or read below as Lys shares her expertise with us! And don't miss our future In the Know sessions where we cover new topics like community engagement and building a budget.
---
Follow Along to Get More Grant Writing Experience
You can view the entire presentation in English and/or Spanish to follow along at your own pace.
For the activity, we broke down the application question we referred to into separate sections so that you can brainstorm easier. Download the activity in English and/or Spanish to try it yourself!