For the last 14 years, Megafauna has been shredding infectious riffs and raw garage energy in Austin.
Dani Neff started Megafauna in 2008, after moving from Brooklyn to Austin. Along the way she teamed up with talented musicians Will Krause, Zack Humphrey and Winston Barrett to form the heavy metal supergroup we see today.
Since then, Megafauna has toured internationally, released 5 LPs, and opened up for the likes of All them Witches, White Denim, Cursive, Mission of Burma, Mineral, Wavves and more.
Their 6th LP, produced by Charles Godfrey, is planned for release in October. We interviewed Megafauna and featured them in the music spotlight in Issue 24: Worth It.
---
How did you get into music?
DN: I was really into dance so music was a natural extension. I was playing violin but I preferred to pick it. My parents encouraged me to play guitar and I went with my Dad ti his guitar lesson. I've been playing since I was 10.
WK: I saw an orchestra in fourth grade and I was like, super hell yeah I want to do that. I had never seen anything like that. I started on a tuba actually.
ZH: I started playing drums when I was 8 or 9 and asked my parents for drum lessons for Christmas. I ended up getting a little hand drum as a gift and took lessons from a hippie dude. Eventually he started teaching me the drum kit. Ever since I was in middle school I've been playing in weird rock bands and never looked back. The most fun and satisfying experiences I had all revolved around playing the drums, it was a real romantic thing. Music was just what I wanted to do.
WB: The band itself is 14 years old. We formed around 2008. My parents didn't really listen to music. I got injured in sports in high school and couldn't walk. So I started learning guitar and then I started writing and it naturally blossomed and I couldn't stop.
What are you doing behind the scenes that people might not realize?
DN: The behind the scenes is almost like running a small business–the social media, email, all the upkeep and logistics about where are we getting to rehearse and the gear. Also making sure the equipment is kept up.
ZH: There's just a lot of sacrifice that goes into being a musician that people don't really see. Especially when you're touring. When you're touring, you can't have a full-time job. Being able to make a living off of music is really hard, especially if you're playing original stuff. You sacrifice a job and personal relationships. There have been many times where I asked myself, should I be doing something else? At the end of the day it comes back to: I would much rather be playing a show with my friends than be in a cubicle.
What's the most rewarding part of being a musician?
DN: It's such an honor to get to share your art with people. To be true to yourself and your art is such a gift, along with collaborating with friends. I love the song writing process too, it's like a puzzle and totally worth the sometimes years of writing. I think "Chromatic Fantasy" took five years to write. Getting to shred and headbang is really cathartic too. This is my soul in all of it grittiness.
WK: Seeing people enjoy something you worked on is really rewarding.
WB: Music is a language that everyone understands. For me, it's this organic thing that I can't stop doing. When people start to react in positive ways, you start to fill a responsibility to keep doing it. The sacrifice just comes with it.
ZH: At the end of the day, it's just a lot of fun. I think it's all about personal freedom and creation. It really is the most satisfying way to live a life for me. Being able to make art with your friends is a huge privilege and really fun and pure at this basic level. When you lose yourself in the music it's unlike anything else. It's this weird way of communicating.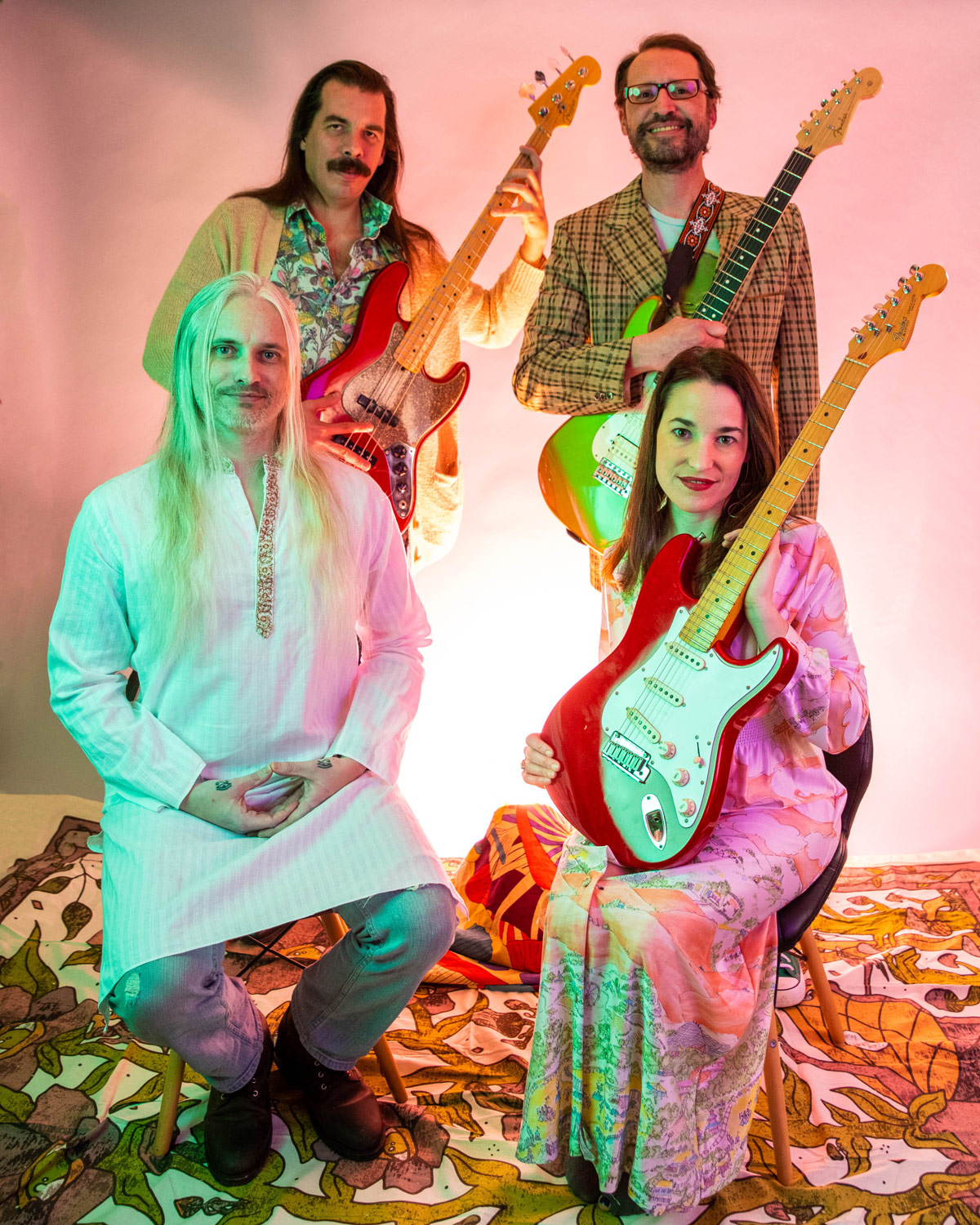 ---
Support Megafauna and follow them on Instagram