It's official, in more ways than one. J-Anthony has released his newest single "It's Official" as his anthem informing the world that he has found "his perfect woman."
J-Anthony is a singer and songwriter from Toledo, Ohio. His music is a fusion of various genres including rock, funk, pop and r&b. He describes it as music that people from all ages and backgrounds can enjoy, and that is very true. The new single "It's Official" represents his motive completely. It's a edgy twist on your typical romantic ballad. The vulnerability of J-Anthony's lyrics makes it come off as a funky love letter that I am sure any woman would be happy to receive.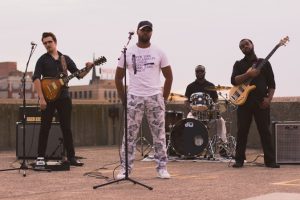 The music video shows J-Anthony and his band jamming on top of a rooftop as he describes the unforgettable woman he has just crossed paths with. He is a self described "man who knows what he wants" as he belts out the romantic lyrics. There is a strong rock n' roll presence throughout the song, with incredibly catchy guitar riffs and solos throughout. J-Anthony also puts his own soulful twist on the melody through his vocals and sporadic talking in between verses. It is a song full of emotion but also one that you can groove to. The band includes the signature "hey" sing-a-long part in the break-down. All of these elements, from the relatable theme to the fusion of different musical genres, makes the song very inclusive.
"It's Official" was not the song I expected to hear when I first discovered J-Anthony. If all of his upcoming tracks maintain the same level of uniqueness, his album will definitely be one to look out for. With this new single, J-Anthony has officially made his mark in the music world.
Check out "It's Official" on the J-Anthony Soundcloud page.