Each year STAPLE! brings over 200 artists and creators under one roof for the celebration of independent media.
It is one of the few long-standing events in Austin that highlights independently produced comics, zines, art, crafts and games alongside educational panels and workshops. We interviewed three artists from 2019's expo, Jae Lin, Monica Gallagher and Evan Narcisse, to gain insight about their process and see firsthand how their creations come to life.
---

When you begin work do you have an idea or do you just go?
My process is quite nonlinear. I frequently have many different ideas going at once, and it's not uncommon for me to have interweaving timelines of multiple different pieces at once. I always have too many ideas in my head, so I try my best to just put things down on paper and see where they go.
Does delving into various mediums keep things interesting?
I feel that all of these skills influence each other, no matter what I'm doing. Sometimes, the ideas or feelings I want to express come out differently through different mediums, and it's freeing for me to have various tools at my disposal. Like many artists, I'm quite a perfectionist, and that can really get me stuck on things. I'll be frozen in my inability to move past a small imperfection, but I've found that changing mediums or practices in those moments can spring me out of that deadlock.
Do you prefer making art that touches on personal subjects?
Art has long been, and continues to be an intrinsic part of my healing from trauma, depression, anxiety, and stigma.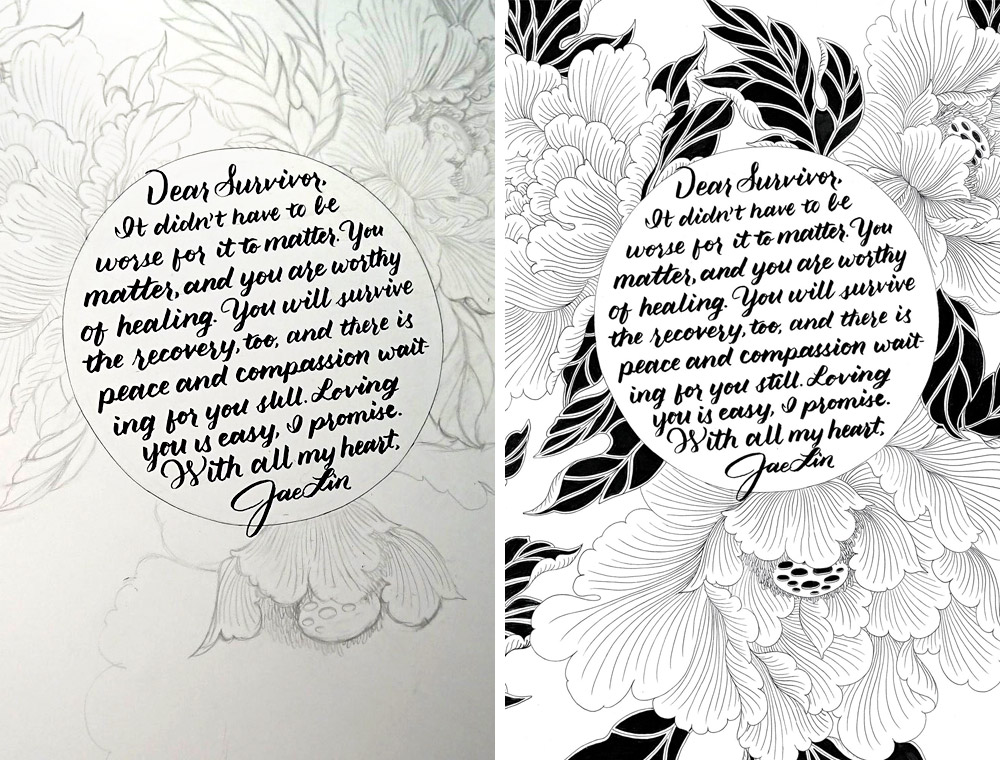 I notice that you often pair powerful messages with light-hearted design. Is this purposeful?
Yes! Empowerment and light-heartedness don't need to be mutually exclusive!
What are some of the techniques you use if you hit a mental block?
I had a bad art block last year. I just kept starting and erasing and ripping up different pieces. I finally gave myself permission to just sit down and draw whatever I wanted; it didn't have to make sense, no one had to like it, and it didn't have to mean anything. So, I asked myself what I wanted to draw, and I came to…a bunny…in a tea cup…with a strawberry…on some clouds…in space! And I did it, I made the piece, felt accomplished and happy with it, and it really sprung me into other work.
Do you think it's important for artists to share their work in progress?
I think it can be fun and important to both share and see the WIPs of different types of art. As with any creative medium, there's a lot that goes on behind the scenes, and it's enlightening to peek past the curtain sometimes.
What is the best part about participating in STAPLE!?
Definitely getting to meet and laugh with so many amazing artists of so many different crafts.
---
SUPPORT Jae & CHECK OUT MORE art and hand lettering!