EUPHORIA MUSIC FESTIVAL IS THIS WEEK!
For the past six years Euphoria Festival has been building a music-loving, art-appreciating, eco-conscious community and we're excited to join the family for the first time! Now we're not new to the festival circuit. Years of California's Coachella, stops at Chicago's Lollapalooza, a summer stint at Belgium's Pukkelpop, and so on have punctuated our "adult" lives. The amazing part is that each experience is remarkably different and leaves behind truly unique memories.
That said, we have heard so many good things about Euphoria and we were really curious about all of their initiatives so we reached out to founder Mitch Morales for a cool little interview for our 6th issue. Follow that link for the interview or check out the official descriptions of everything they have planned below! Also, the set times are out so we're planning our days to see just how much art we can take in over the weekend…
---
Working with the producers of Art Outside to take a deeper dive into art and workshops, the Art Outside Village truly is a festival within a festival. Featuring curated art installations, workshops, yoga, music, performances and more, the village is a way for Euphoria's family to connect with each other and learn.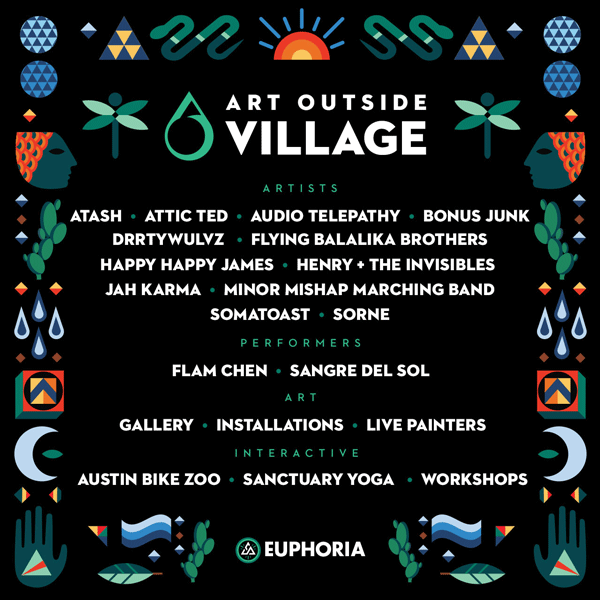 Launched as Euphoria's greening initiative in 2016, this year sees the festival increasing its commitment to the sustainability community. Focusing on the three main tiers of sustainability education, waste reduction and community engagement, Euphoria has partnered with Austin Permaculture Guild, Keep Austin Beautiful and and other local organizations to make sure the message carries on beyond the festival.
Keeping the party going for campers, long after the last note has played on the main stages, this year's lineup includes: Audyssey; Brede; Brian Banner; Capyac; CF Word; DJ Mancub; DJ Manny; Feature Cuts; Flying Turns; Funkstatik; Gamma; Gooty; Happy Happy James; Jay Fresh; Max the Intern; Motion Potion; Notorious Conduct; Rupert the Duke; SOLM8; Toddy B; Travis Breaks; Unfold; Willgood; Wolf-E-Wolf and Zenturion.
One cannot live off of music alone. Over the last few years, workshops have been a fan favorite, allowing attendees to experience and learn about new things or just start the day off right, like with one of Euphoria's yoga sessions. This year's workshops will include: educational sustainability programming with Austin Permaculture Guild, yoga, hooping, meditation, activism talks, acrobatics, DJ instruction, the Carson Creek River Clean Up, botanical medicine talks and more.
Taking the belief in the power of music and community to evoke emotions and forge connections that reach far beyond the festival itself, Euphoria created a space to host weddings. Teaming up with local partners to provide couples with a rich and unforgettable experience, including hair and makeup for brides and grooms, event photography, and a reception featuring sweets and a champagne toast, this will be the first time the festival has offered marriage ceremonies for couples. Even if fans aren't getting hitched, they're invited to swing by and celebrate their love for each other.