Looking for a new job? Looking to hire? The process is strenuous but Unnanu is leading the way towards simplification.
---

Many are unaware of the full extent of the recruiting process. Finding the right employee can take months, from the initial research to interviews, meetings and training. In the end, there is no guarantee that you found the perfect fit. Madhu Basu, creator of Unnanu, simplifies this process for both companies and potential employees. He started by asking himself, "How can I help somebody find their career and prosper?" As it turns out, the most passionate workers end up being the best option for employers. They are fully invested in their work and loyal to their company.
"At the end of the day, I just want to help people say what they honestly want to do."
Madhu's background as owner of Professional Management Computer Software (PMCS) Services provided him with over 10 years of experience sourcing the right type of candidates that meet the needs of a specific role. He was not happy with the current offerings in the hiring space and began development on Unnanu, meaning hello, to make the entire hiring process exist in one space. Typical resumes are often text-heavy and include watered down descriptions that fail to paint a vivid picture of the applicant. Unnanu takes the traditional resume and distills it into easy data points with straightforward video clips. Within each section (Education, Experience, Certifications), users can record a thirty second video. It replaces text descriptions with real, genuine answers directly from the applicant. Users will have the option to rate themselves in the Skills tab to make it easy for employers to pinpoint the candidates with the exact expertise level needed for their position.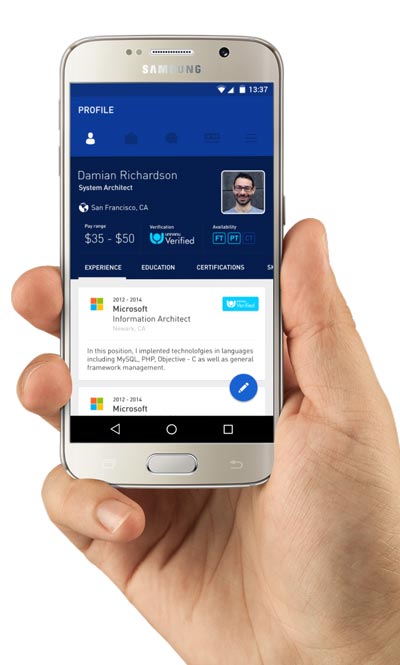 "At the end of the day, I just want to help people say what they honestly want to do." Madhu's goal is to simplify the hiring process by taking out the middleman. Unnanu Hire helps employers find the right person for the job and every profile presented is validated for authenticity—a responsibility usually left for the hiring company.
Madhu's plan of action also includes Unnanu Social to streamline employee to employer contact and Unnanu Referrals where you can make money by referring friends and colleagues for positions. Piece by piece Madhu and his team are building elegant solutions for the modern hiring process to help candidates put their best foot forward.