Cloudchord shares his "secret recipe" for a great track within his scene. It's less about the formula and more about the tools and workflow to expose tips and inspiration!
---
My theme is Futuristic Guitar. It's my greatest foot forward, and my mark on the world. I've been gravitating towards house & disco tempos, 100-125 bpm. My music is more active listening than passive—the performances tend to command attention. I prefer things to sound smooth: "energy without abrasion" is my motto.
I produce in Ableton with a wide array of controllers and instruments like the Push, a Fender Rhodes, and of course, my 12 different guitars including electric and acoustic, mandolin, banjo, ukulele, bouzouki, and lap steel. I'm always trying out new synths but really the most interesting stuff I do is on the guitar channels. I do a lot of sound design, like a synth player would, to get my instrument to sound unique and fresh. Honestly, my studio work is significantly more challenging (to me) than playing in a band. Translating it live is equally challenging, but it's my life's work. I give lectures and started a Facebook group, "Future Guitar," to discuss these ideas.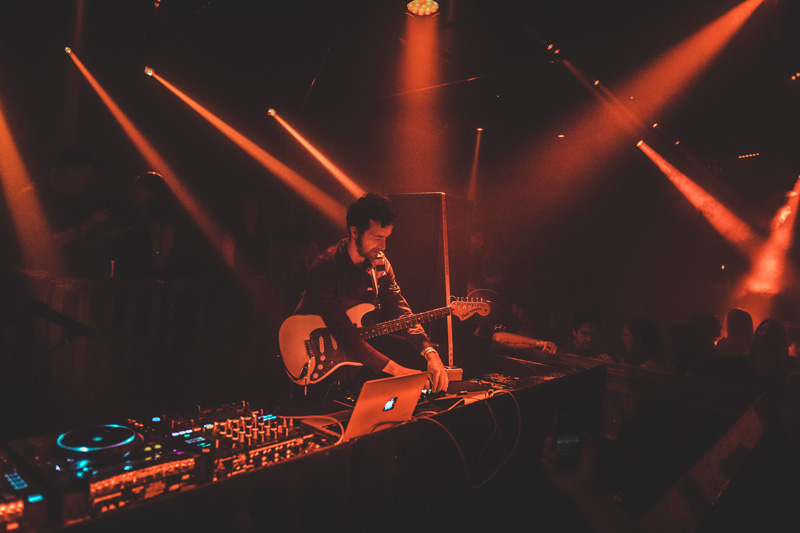 I live mix all my shows in Ableton, because I like the element of spontaneity and risk. Most of my sets as of late have been ending with several minutes of solo guitar, without any beats. The fans eat it up because it's kind of a rarity in electronic music. I've also been inviting guest horns on my shows because I get lonely up there by myself, even when it's a packed house!