Boston natives Eva & the Oak just released the Floriography EP filled with dreamy, folk tunes fitting to their name.
---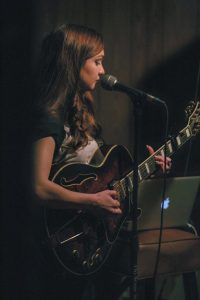 The band hails from Boston, and came together through their "folky roots" and passion for making alternative indie music. Floriography is comprised of five new tracks, all rooted in alternative, dreamy and dark sounds. Think Florence & the Machine mixed with She & Him, with perhaps a few uniquely strange elements. The running theme throughout the EP is the calm feeling that listeners are left with. Each song from Eva & the Oak is layered with rhythm as each instrument builds on one another. The defining feature of the songs comes from lead singer Madeline Parascandola's ethereal voice. All of the songs are written by Madeline, who has the ability to evoke raw emotion within her lyrics.
Floriography is consistent in sound, with all of the songs filled with pop and folk elements. Some songs, like "Closer Caress" and "Silver Moon" are slower and melodic. They lay the ground work for Eva & the Oak to experiment with the other tracks. The second song off of the EP, "The River," starts a little more upbeat. The folk influence comes through and the chorus is more of a sing-a-long. My favorite song off of the EP is "Peony Heart."  This song is the most up tempo, and the chorus is heavy with layered instruments. It is a song that you can feel every part of. Even though there is a lot going on, it all seems to fit together. The EP closes out with "Remember the Iris," the most minimal track off of the album. It is the perfect end that leaves you satisfied while also hoping to hear more.
Eva & the Oak are currently on tour. Find out where to catch them live on their website.